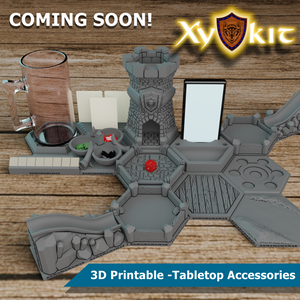 3D print-a-bowls, openLOCK, and Coasters
Sign up to get notified through KICKSTARTER

I need a coaster...   
     Sooooo, I was thinking the other day "Hmmm....I need a coaster...." and then I thought, "what if that coaster could have my rpg character's name on it? Oh, and a place to hold my dice, and my minis, and maybe my phone, and there should be bowls for game components. Maybe there could be dice towers and trays, and terrain." But then I thought "what if it could all clip together, yeah, it should all clip together" Then I realized I didn't have to reinvent the wheel here, I could make them compatible with openLOCK.  So I contacted Printable Scenery and they gave us a license to the use openLOCK system commercially.
What do you want to see in a system like this?
         We want this to be a versatile system to help you organize and enhance your tabletop games. We've got a list a mile long of all the different types of pieces we are trying to incorporate into this system:
Component Bowls (3D print - a - bowls)
Mug Coasters
Soda Can Coasters
Dice Towers
Dice Trays
Dice Slides
Miniature Holders
Cell Phone Holder.
Name Plates
Terrain Tiles
Scatter Terrain
Playing Card Holders
Tell us what else you'd like to see in the comments below.
3D print-a-bowls
  Many gamers I know like to use bowls for components during play, so I thought we should have a variety of sizes and shapes that all clip into the same openLOCK system. And above all they should look awesome, like bowls out of a fantasy or sci-fi world. 
Bowl varieties
     We are currently in the process of testing many of the files as we develop more pieces for the system.

This is a "Rock Slide", its a new fun way to roll your dice!

 

Digital .STL file downloads

     We will be offering all these files in a digital download.  They will be available for a personal use download or a yearly commercial printing license.

 

Thanks for Checking out our upcoming project, be sure to comment below and tell your friends! Sign up for our newsletter to stay up to date on our launch shedule! Check out our Pre-Launch Kickstarter Page

 
---
1 comment