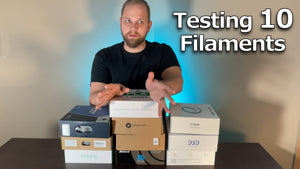 Best PLA from Amazon for 2023
PLA FILAMENT TEST for 2023     
     Here at Xykit, we've been in the market for a new PLA going into 2023! Something that isn't too fussy, and provides good, clean results with minimal effort. We are often testing new model designs for our Kickstarters, and we need them to print correctly the first time, without too much fussing. They also have to look good, with minimal stinging, zits, or blemishes! 
You can read all the info below, or watch the YouTube Video.
The PLAN:
   We purchased 10 brands of PLA (polylactic acid) filament from Amazon and compared their ease of use and quality with our standard settings. All brands were in the $17 - $25 (USD) price range at the time of purchase.
The Filaments:
     Below is the list of filament brands we purchased, and their pricing at the time of purchase*. 
Polymaker, "PolyTerra" Matte PLA - $19.99 (USD) 

OVERTURE PLA - $20.99 (USD) 

Creality 3D Ender PLA - $19.79 (USD)

DURAMIC 3D PLA + - $21.99 (USD)

ANYCUBIC PLA - $17.99 (USD)

HATCHBOX PLA - $24.99 (USD)

Inland PLA - $22.49 (USD)

eSUN PLA PRO PLA+ - $24.99 (USD)

Geeetech PLA - $20.99 (USD)

SUNLU PLA - $21.99 (USD)
(*purchased Nov. 2022)
The Printer and Settings:
   These are our typical settings below, for the printer we used. All models were printed on the same printer for consistency.
3D printer: Creality CR10s, all metal hotend, .6mm nozzle
Slicer: Cura
Nozzle Temperature: 212° C (PLA) 220°C (PLA+)
Print Bed Temperature: 60° C
Supports: NONE
Infill: 10%
Infill Pattern: Gyroid
Print speed: 60 mm/s
Outer wall speed: 30 mm/s
Retraction: 4mm
The Model:
   For this test, we designed a new FREE model. A 3D printable Dice Pedestal with interchangeable geared inserts for your various RPG dice shapes.
The Results:
    After printing all 10 models and examining the final prints. I would rank the top filaments as follows:
#1. Anycubic PLA - highest quality print at the most affordable price point.
     The price does fluctuate though, so it may not always be the most affordable, but at around $20 or less a roll, it seems to provide consistent results.
#2. eSUN PLA+ - clean print, nice color, solid performance
     This was on the top of the price point at around $25 per roll, however It provided a very clean print, no surface imperfections and only mild stringing. A solid choice.
#3. DURAMIC PLA+ - good price for PLA+, minimal stringing
   This filament really did an excellent job, and it was more affordable than the eSUN PLA+.
Honorable Mentions:
Sunlu PLA - Nice deep gray color, good surface quality
Geeetech PLA - Decent price, minimal stringing
The Detailed Results:
   Below you can see each brand of filaments with an image of their results:
  Polymaker - Polyterra Matte PLA, Fossil Grey - Purchase Link
The Good:
Cool matte finish
Cardboard Spool
Tree planted for every roll purchased
Decent Price
The Bad:
Bed adhesion issues
Warping
Stringing
    The Polymaker filament intrigues me. I like that they are trying hard to be Earth friendly, and that they are keeping their prices affordable at the same time. However, this was the only print that I had fail during the test, not just once either. It did not want to stick to the glass bed, even with a healthy coating from a glue stick. I am interested in adjusting the settings a bit more to try and get this one dialed in.
 OVERTURE - PLA Space Grey - Purchase Link
The Good:
Nice Metallic
Cardboard Spool
Decent Price
Large selection of colors
The Bad:
Strongest odor of all the tested PLAs
Mild Sagging on overhangs
Stringing
The OVERTURE filament seemed like a fairly average PLA. I really like the slightly metallic color of the space gray, however it did have a bit of an odor. Most PLAs has very little smell, but I definitely noticed a bit of an unpleasant "plasticky" smell while printing.
 Ender Series - PLA - Purchase Link
The Good:
Nice Finish
Affordable
Average performance
The Bad:
Strong Layer lines
Stringing
   Another fairly average PLA. It printed easily, but had some strong layer lines, and mild stringing.
 DURAMIC - PLA + - Purchase Link
The Good:
Nice Finish
Affordable
Large Color Selection
Cardboard Spool
Minimal Stringing
The Bad:
    I liked the Duramic PLA+. This was printed at 220°C, and had very little stringing. It did have some harsher layer lines than some of the other PLAs, but if you are looking for a decent PLA+ at and affordable price, this is a good one to check out.
 Anycubic - PLA - Purchase Link
The Good:
Nice even Finish
Affordable
Smooth layer lines
Crisp Details
The Bad:
    This filament ended being our favorite from this test. It is normally priced around $20 per roll, and I've seen it dip to around $16. Aside from some mild stringing, there was little bad to say. A good, bargain filament, that produces clean results. What more could you want?
Hatchbox - PLA Purchase Link
The Good:
Established Brand
Crisp Details
The Bad:
Pinholes randomly throughout print
harsh layer lines
Moderate Stringing
Higher price than other brands
   Hatchbox is a well established brand, and they seem to have a fairly good reputation in the 3D printing community. I was excited to try this filament, however, I wasn't satisfied by the results. The print from this test seemed quite average. It was also the only PLA that gave us tiny little pinholes throughout the model. We may need to adjust our settings to get this one to perform the way we need it to.
The Good:
Nice cool blue / grey
Cardboard Spool
The Bad:
Stringing
Surface zits, especially on corners
Higher price than other brands
   The Inland PLA was a very "average" filament. It had more stringing that I would like, surface zits, and blobby corners. If I could find it for a good price, I might be willing to try it again, but it didn't impress me straight out of the box.
 eSUN PLA - Purchase Link
The Good:
Nice cool blue / grey
Smooth surface finish
Sharp details
The Bad:
Mild Stringing
Higher price than other brands
   I had heard good things about eSUN PLA+ so I wanted to give it a try for myself. I am quite pleased with the results. It had nice even layers, no major surface imperfections, and only mild stringing. It was toward the top of the price range at $25 per roll, however it seems like it will be a reliable option, making it our #2 choice.
Geeetech PLA - Purchase Link
The Good:
Smooth surface finish
Sharp details
The Bad:
Mild Stringing
Mild shrinking around corners.
  Geeetech was the one brand of filament we'd tried previously, although it was a metallic copper, so I wanted to give there plain grey a chance. I am happy with the results from Geeetech. It was affordable, had only mild stringing and provided a relatively smooth finish. It would try this brand again.
Sunlu PLA - Purchase Link
The Good:
Smooth surface finish
Nice deep grey color
The Bad:
Mild Stringing
Not as crisp of details.
  This was a decent filament. I liked the deep grey color and it was quite affordable. Worth a try, especially if it were on sale.
Conclusion
   This was a fun test. I've been wanting to try out a variety of filaments to see which one could become our go-to brand. All in all, most of the brands tested preformed relatively well considering we used our generic settings. I think with some fine tuning, most, if not all of the brands would produce quality results.
Have you tried any of these filaments? Which one was your favorite, or least favorite? Tell me about it in the comments!
Thanks for reading!
Article written by:
Jason Wade
3D Designer
Xykit.com
---------------------------------------------
*This article was not sponsored. The rolls of filament were purchased by Xykit for the purpose of testing and comparison. All opinions are our own. No cash or product(s) were exchanged.
We do have some Amazon Associate Affiliate Links:
By purchasing products from the the Amazon affiliate links in this article, we receive a small commission on eligible purchases. Using the links does not cost any extra but does help support Xykit.
---