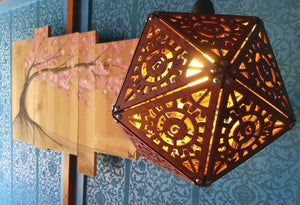 Spring - Summer 2018
Fantasy Boxes Kickstarter
    We've had a busy spring working on Fantasy Boxes and meeting promised deadlines for our Kickstarter. Early Birds and Wave 1 boxes have shipped on schedule and Fantasy Deck boxes will be shipping this Month (June 2018). Our final Wave 2 of Fantasy boxes has also begun production, and should be shipping before the promised month (August 2018).
  This summer we will be making Fantasy Boxes available on xykit.com and in our etsy store. We hope to be adding a few new designs to the lineup as well, so stay tuned!
Dice Lamps
    Dice lamps have also been a success and we've added a few new variations to our etsy store and will be updating the items available on xykit.com. These new variations include a Steampunk Gear design that is available in a stained mahogany color and a modern design that is being sold as a kit. A D12 version of the original scroll design is also available on etsy.
Flame Bulbs
    A while back we ordered some lighting products from the manufacturer to try out in our dice lamps. So far my favorite was an LED Flame Bulb. Oh my goodness, what a fun way to change the atmosphere of your game room. I loved it so much that I want to offer it as a product for you as well. It is now available on xykit.com for purchase. These items are being shipped directly from the manufacture for now, so please allow a little extra time to arrive usually within (12-20 days). 
New Things
     We have added several new "geeky" things to our line-up so far this year. These include: Dice lamps, "Vikings on Board" wall art, and hardwood dice vaults.  We love games here at xykit and are excited to keep offering new products to enhance your decor and gaming experiences. 
    Thanks for taking the time to read our blog, we have lots of ideas in store and would love to hear your thoughts and ideas. Let us know what types of products you'd like to see as we continue to increase our product line.
---