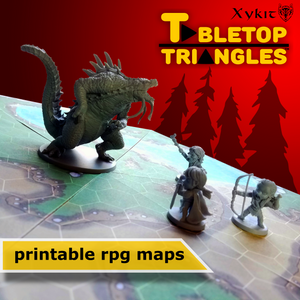 What are Tabletop Triangles?
    Many of you know that I love drawing and I also love playing tabletop games. When I have free time I am usually doing one of these two things.
     So, I set out to combine these two hobbies into something useful. When looking around at what is currently available for print and play RPG maps, I found the options somewhat limiting. There are many beautiful maps available but most for very specif encounters.  I wanted to make something that can be used over and over again and added to over time.
    I started exploring the idea of reconfigurable hexagon shaped tiles, but after much experimenting, I found that grids became a little tricky with lining up at the corners. After some discussions with my brother, he mentioned that I should give triangles a try. So after some layout, the Tabletop Triangle was born. The triangle allowed for a nice layout of a 1 inch hex grid. The hex grid nicely connects to each adjacent tile no matter the tiles orientation. I know not everyone is on board with a hex grid, so I also made all of the tiles with no grid for a more free form experience. 
    Now for the art! When I first began thinking about this project I thought I would use vector art to design the tiles. This made sense to me because vector images can be scaled and sized easily without losing any quality. Vectors can also easily be manipulated. Vector images have many advantages, but when I put them side by side with hand drawn designs, many of my friends and family said that they preferred the look of a hand-drawn tile better.
   So hand-drawn tiles it is! Time to begin drawing. I started with an area I am calling "Pebble Brook". This is your basic fantasy landscape, grassy patches, dirt paths, flowing streams and lots and lots of little pebbles. This is the area that our Sample Pack is based on as well as our BIG starter pack.  You can create some pretty massive maps with all these tiles, between them there are 27 triangle tiles to work with.
    But that's not all, I wanted the tiles to take you through a variety of terrain. We have currently released Pack I for "Molten Meadows" and "Granite Frost". Molten Meadows as the name implies, was once a beautiful meadow, but is now covered with lava.  Granite Frost on the other hand is quite the opposite, a rather chilly place covered in an snow, its a great place to encounter wolves, bears, and the occasional frost giant.
    I have already started on our next pack, but will keep that a secret for now.  I've got a list a mile long of all the different regions I want to create still, so stay tuned. Let us know what you think of the maps, what type of terrain do you want to see?
Thanks for reading, stay tuned for more from Xykit!
---